Sweetbrier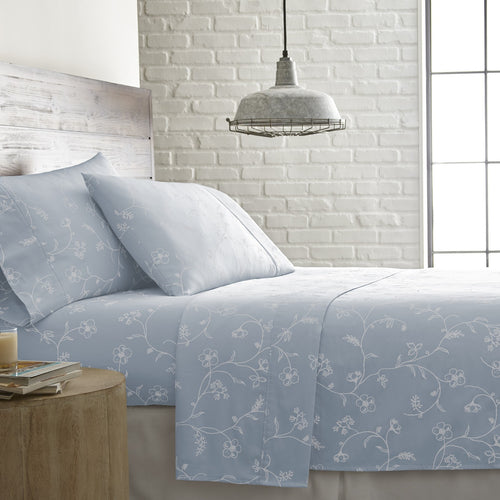 The Southshore Sweetbrier collection offers the ultimate in bedding comfort. Made from 100-percent pure sateen cotton, all Sweetbrier products are soft, natural, and breathe well. Choose from comforter or duvet cover sets with pillow shams and coordinating extra-deep pocket sheets.
The delicate Sweetbrier rose motif and subtle colors featured in this collection are an attractive addition to any bedroom. Add interest to a modern or minimalist bedroom, or delicacy to a country bedroom.
Versatile & Stylish
Most people don't have oodles of money to invest in bedding, so they need to make the most out of what they buy. The Sweetbrier comforter and duvet cover offer four colors, but so much more.
When you choose a lunar grey, soft sand, pastel pink, or Ballard blue comforter or duvet cover, it has solid color with white roses on one side and dark roses with a light background on the other. Just flip your duvet or comforter for a new look.
What makes this collection even more amazing is your bed sheet set choices. The collection includes sheets in twin, full, queen, king and California king in three additional colors (bright white, lavender, and pastel green) besides those found in the comforter and duvet cover sets. These sheets fit Euro-top, pillow-top, and mattresses with toppers up to 22 inches deep.
But that's not all! You can also buy patterned sheets to complement or contrast your comforter or duvet cover set. Choose solid colors with the Sweetbrier rose in white or inverted sheets printed in your chosen color on a white background. It is quite possible to create a bed unlike any other with so many options.
Durable Natural Fiber
The Sweetbrier collection made from 300-thread count cotton provides an unforgettable night's sleep. Cotton is best known for its ability to move moisture away from the skin and it allows air through the weave. If you sleep hot or perspire, you can't beat the cooling properties of this natural fiber.
While many manufacturers will tell you that you only get good quality if you spend a lot on bedding, this simply isn't true. Good quality cotton fibers like those used in the Sweetbrier collection feel softer and stand up to washing better than many expensive products with inferior fibers.
Don't buy thread counts - buy quality.
Outstanding Affordability
Usually, when you shop for 100-percent cotton bedding it is substantially more expensive than synthetic products. However, the Sweetbrier collection breaks all the rules.
Create a stylish bed complete with comforter or duvet cover, pillow shams, and bed sheets in pure cotton for under $100. You don't need to choose between cotton comfort and low price - you can have both.
Guaranteed Products
Reasonable prices don't mean you'll sacrifice quality. The Southshore Sweetbrier collection includes a manufacturer's guarantee that ensures you're buying quality products you'll enjoy for years to come.
The Southshore Sweetbrier collection is just one of Southshore Fine Linens quality lines. If you need assistance, let one of our representatives help you. We stand behind our products and offer stellar customer service.