Myosotis Scorpioides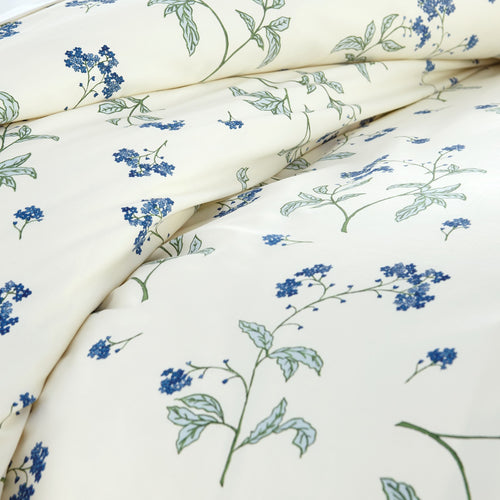 The Myosotis Scorpiodes collection adorned with Forget-Me-Not flowers offers duvet cover sets, comforter sets, and extra-deep pocket sheets. What makes these products so special is the soft, supple 100-percent cotton sateen that's certain to offer you an unforgettable night's sleep.
Natural Fiber
Nothing beats the comfort of cotton. It's natural, breathes well, and moves moisture away from your skin. If you're a person who loves to sleep in a cool bed or you perspire during the night, cotton is your best choice.
Cotton sateen is especially soft and sumptuous with a luxurious sheen. These products look and feel terrific and provide a high-end look for your bed.
Durable, Yet Soft
Buying bedding with the right thread count is important. Too low and your bedding's scratchy and uncomfortable. Too high and it loses it durability.
Fortunately, the Myosotis Scorpiodes collection offers the perfect balance of incredible softness and longevity. When properly laundered, these products last for years.
Pleasing Colors
The Myosotis Scorpiodes collection offers four subtle colors including three neutrals and one light pastel. Choose from white, off-white, grey, or green all adorned with delicate flowers. This collection makes it simple to bring a bit of nature and softness into a bedroom without overpowering the room.
Quality Finish
All products in this collection offer a quality finish. The honeycomb pattern on the quilt keeps the fill in place no matter how often you launder it. Piped edges and rounded corners make this quilt look far more expensive than it actually is. Only you will know how little you spent.
The duvet cover utilizes buttons, not flimsy zippers or frustrating ties. The Myosotis Scorpiodes duvet cover set also includes pillow shams for a complete designer bed without spending more.
Bed sheet sets fit Euro-top or pillow-top mattresses and mattresses with a topper. We carry bed sheets to fit most bed sizes and you have the option of buying additional pillowcases too. Lighten your laundry load and keep your bed fresh and clean.
This collection is ideal for a country chic bedroom or any bedroom that's a little too sterile and needs a soft touch. These products are lightweight too, so you're bedding never smothers you while you sleep.
Coordinated Cotton - Affordable Price
Cotton bedding often comes with a very steep price tag. That's not the case with the Myosotis Scorpiodes collection. Choose either a quilt or duvet cover set and then match or contrast your bed sheets, all for under $100.
Never worry when it's time to replace your bedding or update your room. You can do so affordably.
*****
Pure cotton bedding doesn't need to cost a fortune. The Myosotis Scorpiodes collection offers quality cotton, style, and affordability. Bring a touch of nature into your bedroom and create an inviting, comfortable bed.